Lady Brabourne College, Kolkata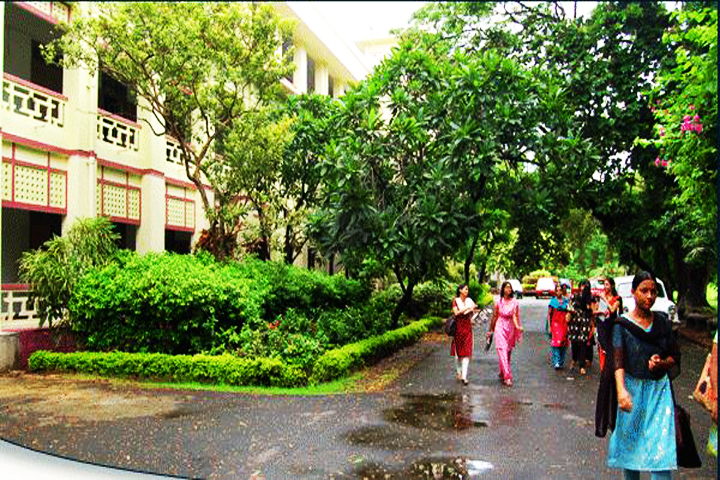 Lady Brabourne College, with its lush green lawns and gardens opposite the Park Circus Maidan is one of the premier Institutions for women's education in India. Established by the Government of Bengal in July 1939 and named after the wife of Lord Brabourne, the Governor of Bengal till February 1939, the college made a humble beginning with 35 Muslim students and 9 faculty members in a rented house in Park Circus. The foundation stone of the building in which it is presently housed was laid on 26th August 1939 by Sir J. Woodhead the then Governor of Bengal. Ever since the college has expanded structurally and academically earning the reputation of having an excellent academic environment.
HISTORY OF LADY BRABOURNE COLLEGE
The journey of Lady Brabourne College started more than eighty years ago from a rented house (106A, Park Street, Kolkata) situated in the same Park Circus area where Lady Brabourne College is located today.  It was in March 1938, that Hon'ble A.K. Fazlul Huq, the then Prime Minister of undivided Bengal, announced the establishment of a Purdah College to address the issue of Higher Education among Muslim women.
Abul Kasem Fazlul Huq
Subsequently on 26th August, 1939 the Governor of Bengal, Sir John Woodhead laid the foundation stone on a spacious plot in Park Circus where the college shifted in 1941 to its present premises at P-1/2 Suhrawardy Avenue, Kolkata – 700017. It was soon named Lady Brabourne after the lady who had been instrumental in making Huq's efforts become a reality. Doreen Knatchbull Lady Brabourne was the wife of Michael Herbert Rudolf Knatchbull Brabourne (Lord Brabourne), the late Governor of Bengal.  Initially meant for Muslim girls, the college opened its doors to non Muslim women the very next year i.e. 1940 as 'it was decided that 40% of non-Muslim students would be taken'.
Lord and Lady Brabourne
106A, PARK STREET, the rented premises from where the journey began. Now it is 106A New Park Street that houses East Traffic Guard, Topsia Police Station
The College hostel, which started accommodating students since 1939, however, remained only for Muslims. It was only after 1947, that the hostel opened its doors to students from all communities.
Classes for Intermediate Arts started in July 1939 with 35 Muslim girls. Miss F.E. Grose was appointed Principal. There were only 9 faculty members: Miss Jean Mc Fayden (Prof. of English), Miss Shamsun Nahar Mahmud (Prof. of Bengali), Miss Fatema Begum (Lecturer in Urdu), Mr. Reza Ali Wahshat (Prof. of Persian), Maulana Abdul Khalique (Prof. of Arabic), Dr. Roma Chaudhuri (Prof. of Logic and Philosophy), Mrs. Bina Ghosh (Prof. of History), Mrs. Snigdhaprabha Mitra (Prof. of Mathematics), and Miss Kamala Sen (Lecturer in Civics and Economics). Mrs. Sabera Taib was the Librarian.
Members of the Governing Body included Begum Hamida Momem, MLC, Mrs. Fara Bano Khanum, MLA, Mrs. Hasina Murshed MLA  and MBE, (she was made Member of the British Empire by the then Emperor George VI on the recommendation of the Governor of Bengal, Sir John Woodhead), and Miss S.B. Gupta.
Affiliated to the University of Calcutta, the college at its inception began with teaching Urdu, Persian, Arabic, Bengali, English, History, Philosophy, Mathematics, and Economics __ as Optional and Pass Papers that were later extended to Honours level. Sanskrit, Chemistry, Physics and Geography were introduced in 1941, Zoology and Botany in 1950-51 and Political Science and Hindi in 1960. Lady Brabourne was first among the Government Colleges in West Bengal to start Sociology at the Undergraduate level when it was introduced as a Pass paper in 1988. It became an Honours course in 1994. The College was also the first women's college that introduced Statistics as a Pass/General Paper in the year 2000. While the department of Microbiology was established in 2002, Statistics was elevated as an Honours department in 2005.
From being an exclusively Undergraduate college until 2002, the institution began extending into Post Graduate Courses (P.G.) and Ph.D. programmes with the Geography Department launching its P.G. Course in 2003. The Microbiology and Mathematics Departments followed suit in 2005 and 2006 respectively. The Physics and the English Departments began their P.G. Courses in 2007 and 2009 respectively. The Department of Bengali launched its P.G. Course in 2014. Each of these Post Graduate Departments now has an Advanced Research Centre, approved by the University of Calcutta. Four new P.G. Courses have been launched in 2016 by the Departments of Botany, Chemistry, Zoology and Political Science.
Today, Lady Brabourne College has 96 faculty members, 19 Undergraduate Honours and 2 exclusively Undergraduate Pass Courses (later called General, and now Generic Elective) namely, Computer Science and Women's Studies. There are 10 Post Graduate Courses, besides various UGC sponsored Diploma and Certificate Courses.
The first institution to be established for the education of Muslim women, it has subsequently emerged as a multicultural venue for students from all over the country and from abroad. Today the College is a premier institution and a distinguished women's college in West Bengal. Its cosmopolitan character and its emphasis on holistic development have contributed to the College attaining a unique position in the sphere of women's education.
The Main Building
The New Science Building
Roma Chaudhuri Building
The lush green garden
The UG Hostel
The PG Hostel